Maize Milling
Farmers are Trapped in Subsidiary Farming
"The margin added for processing is 500% of the product."
The bulk of the value (4-5 times) is captured by the traders and intermediaries who do processing & packaging. The middle men are controlling the market. There is no chance for the farmer to escape the subsidiary farming.
Rural Agro-Processing as an Energy Service
PAMOJA sets up its own agro-processing units like maize milling machine to offer agro-processing as a service to the farmer.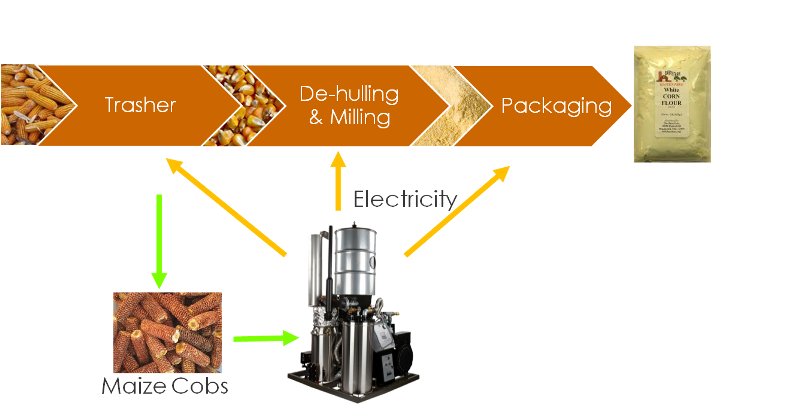 "Pamoja's local agro-processing service is the key to overcome subsidiary farming."
The service of processing will be offered to rural farmers all the way from trashing to milling & packaging. PAMOJA is taking 10%-20% for this service. In this way the greatest part of the value stays with the farmers. Local agro-processing service is the key to overcome subsidiary farming. The flour can be sold directly in the village, stored for dry seasons or sold to many different markets. Now the farmers have all options by themselves to find the best prize for their products.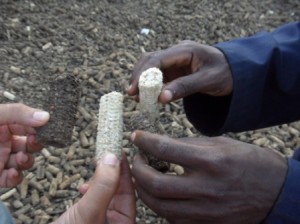 Additional benefits for the farmers are generated with the corn cobs. Usually the corn cobs are burned causing environmental and health problems. Now they sell it to Pamoja as valuable fuel.
The gasifier fully runs on maize cobs. The residues of the gasifier again is bio-char. This is used for briquette making.
This model also works for many other agro-processing systems. Pamoja will be on the forefront to bring these systems in place, wherever it can be sustainable.